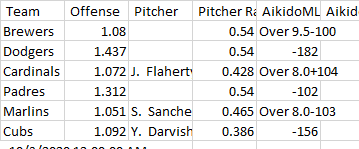 Pretty frustrating that fully half the teams can't tell us who is starting a playoff game.
PICK: Marlins +183 (there's +190 at Bookmaker right now if you can get it)
That still seems like solid value. And that's all we can say for now. Remember to always shop around!
We went 1-2 yesterday, so a disappointing 3-5 to start the playoffs. Small sample sizes are tough.