Aikido 9/12 Full Slate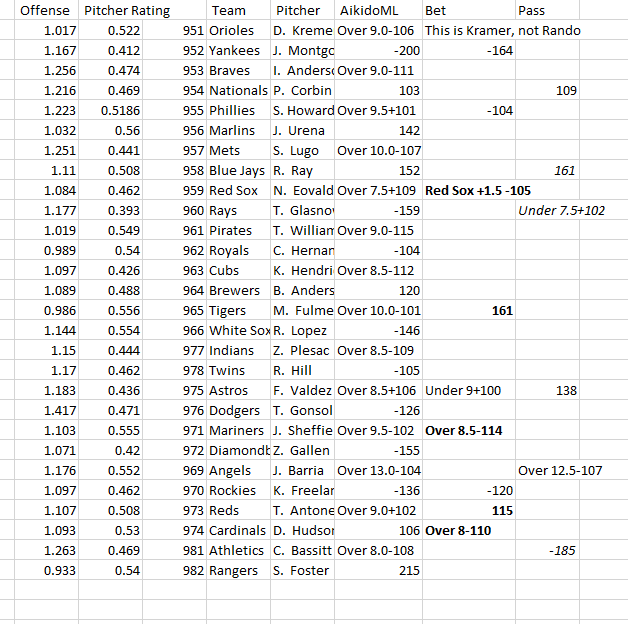 New wagers are in bold, see last night for the old ones. Giants game is cancelled due to Covid-19 concerns.
959 Red Sox +1.5 -105
This is about six cents better than +193, which we would have also accepted. Line is very generous. Total isn't quite where it needs to be especially at this late hour, so we're turning down Under 7.5+102.
965 Tigers +161
I'm a little worried we've bet on the Tigers a bunch recently, so it's possible this should be a pass. I'm going to go with it one more time.
971/972 Mariners/Diamondbacks Over 8.5-114
We're very sad we couldn't pick up Over 8 last night, but when you snooze you lose. Should have had the house in better order, I suppose. We still think the number is wrong, and we agree with the moneyline, so I'm happy to take it anyway.
973 Reds +115
973/974 Reds/Cardinals Over 8-110
These both look very good, so there's a strong disagreement here that is either about Hudson or possibly the Reds. Hudson's projections do make his rating seem somewhat harsh but the Cardinals have several pitchers in a similar position, and it's not like he's impressive. I'd prefer to have only been offered one of these lines, but I'm still going to take them rather than pass.
Phillies are up to -124, which is starting to seem like a sane line to me. Still don't know what's going on there and very happy to have locked in -104.
Overall record continues to look great. We are now 54-43-1, +16.5 units, line movement -0.47 cents/game and bouncing around a bunch. I've asked a friend to audit the games with bad line movement to see what can be improved - that would be a great place for further investigation.