Aikido 9/12 Part 1
Another fine mess of unknown pitchers and weird rotation numbers. Be sure you're getting what you think you are paying for.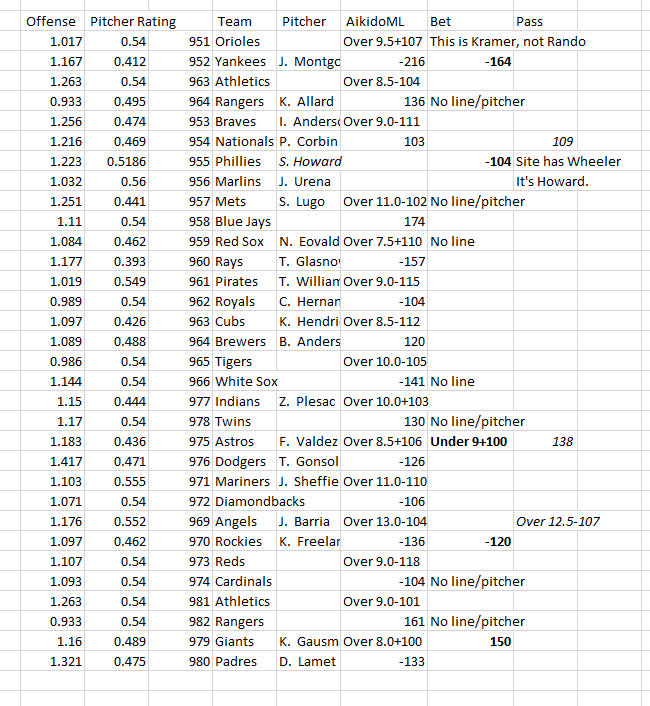 We still have some things we are interested in.
952 Yankees -164
The Orioles pitcher is Kramer, so our number is a bit higher than it's supposed to be, but that's a remarkably small effect. He's pretty bad, and this number is cheap.
PASSING: 954 Nationals +109
It's thin, and I expect the Nationals to be demotivated soon if they haven't been yet.
955 Phillies -104
This number boggles me. The site lists the pitcher as Wheeler, which would have been a bet-your-house level of edge. Instead it's Howard, which means the Phillies have the much better offense plus the better pitcher and are still being treated like the're even money. This line completely confuses me. I don't understand how it happens. What the hell is this?
975/976 Astros/Dodgers Under 9+100
PASSING: 975 Astros +138
The Astros have as good a chance to win this game as anyone has to take a game off the Dodgers, and it would be very reasonable to take the odds here. What's holding me back is that the +138 line is terrible. It's at least +140 at most other books. I don't want to reach for it that badly, so maybe we'll play it in the morning.
The total on the other hand is an easy and straightforward play where we get great pitching at a good price, Dodgers offense notwithstanding and also batting last.
970 Rockies -120
PASSING: 969/970 Angels/Rockies Over 12.5 -107
Ah, the joys of Coors. The 13 is not a tiny point, but it's not big enough to make me move on this here. The Rockies on the other hand are offering a solid edge.
979 Giants +150
Another solid edge I'm comfortable with.
Lot of blank spaces, so I hope to come back tomorrow to finish the job.