Aikido 9/14 Part 2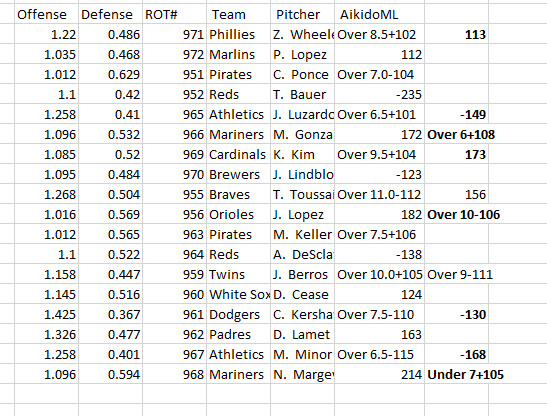 Still not picking up the extra STL/MIL game, and Pinnacle still missing half its lines. In the name of 'life must go on' I'm shopping around at this time instead on those games. New wagers are in bold.
Note that we're betting the Athletics in both halves of the double header. That's scary. Whereas we're over in one game and under on the other, which is very not scary.
We're taking the Braves/Orioles Over now, at Over 10-106, despite passing on the Over 10.5 earlier. One needs to be careful with such things, but the edge is now too big to ignore.
Full card:
971 Phillies +113
965 Athletics -149
965/966 Athletics/Mariners Over 6+108
967 Athletics -168
967/968 Athletics/Mariners Under 7+105
969 Cardinals +173
961 Dodgers -130
959/960 Twins/White Sox Over 9-111
Definitely a little scary how many big side edges we suddenly see. Things must be getting pretty crazy. Wish I had more time to investigate, slash enough on the line to justify investigation. But I have much to do.