Aikido 9/16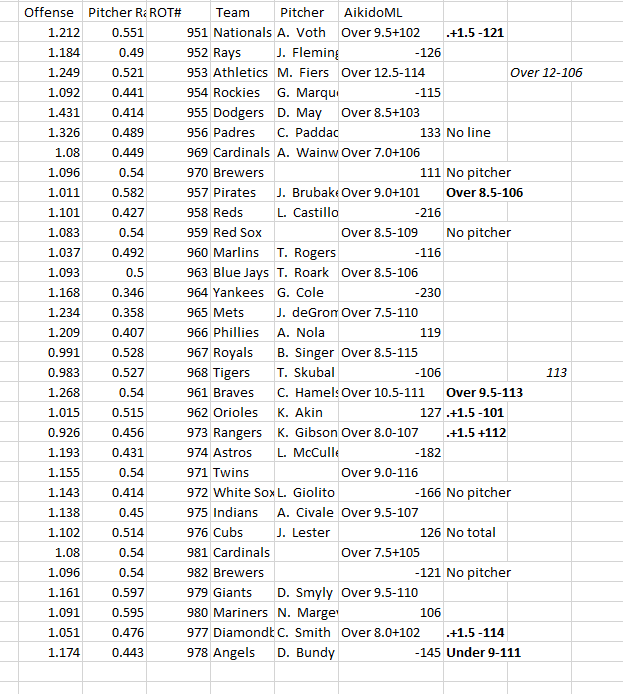 We had a rough weekend, bringing our record to 66-57-2, +12.3 units, +9.9% hold.
That's still above expected rate. Hopefully we can finish the season stronger.
951 Nationals +1.5 -121
Usual caveats about the side but it was tempting and then we got a great runline. At this point, I wouldn't take big dogs on the moneylines at all, even if that meant waiting a bit, unless I needed to get down big size.
957/958 Pirates/Reds Over 8.5-106
Standard math play.
961/962 Braves/Orioles Over 9.5-113
962 Orioles +1.5 -101
That Orioles line is rather crazy generous both in terms of a cheap run and a cheap moneyline to base off, so we are taking it even though we believe in the over.
973 Rangers +1.5 +112
Again, we're getting a good line off a good line - I'm not taking runlines if we don't like the moneyline, because then it's not really an Aikido play even if the odds are good enough to justify it.
977 Diamondbacks +1.5 -114
977/978 Diamondbacks/Angels Under 9-111
Once again a great runline no matter the total (within reason, and 9 counts), and we also think this total is far too high.
There are a bunch of remaining games, so if I get the time and urge I'll do a roundup again tomorrow. But the complete lack of feedback has taken its toll, so probably not - I'm mostly finishing to finish the experiment, but I don't see the need to go full completionist.