Aikido 9/17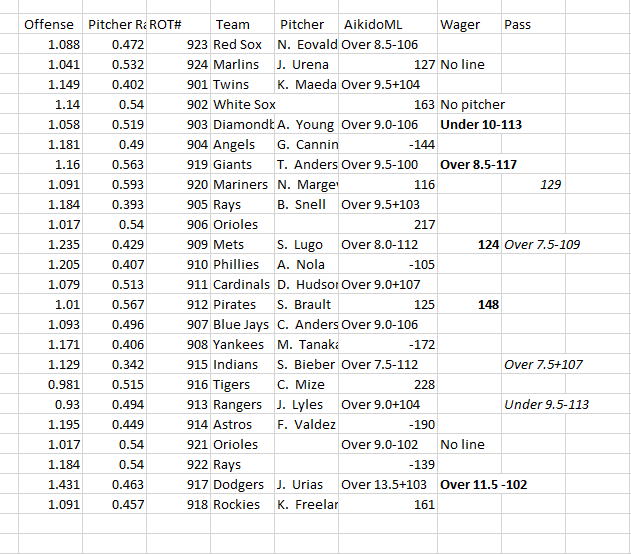 Continued rough going. We're still +10.4, 69-62, +7.95%, but that's quite the letdown from where we were earlier. It's also about the very top end of my plausible range of long term returns.
Given we're not doing as well and the season is getting closer to its end, which causes weird things to happen, I'm going to be a bit more conservative, and pass up some marginal plays. All four passes here are reasonable spots.
903/904 Diamondbacks/Angels Under 10-113
Always happy to go Under 10 with reasonable pitchers and non-amazing offenses in a normal park.
919/920 Giants/Mariners Over 8.5-117
I'm having a hard time understanding why this number is so much lower than the previous one, looking at them side by side. This seems like a great spot. The +129 on Seattle isn't as good as the total, and it's a duplicate opinion probably, so we pass on it.
909 Mets +124
Strongly agree here, but man I hate Rojas so much. Lugo has been excellent, but first they didn't let him pitch, then last time out they let him pitch at least one full inning when he was clearly gassed, and probably more like two. Can Rojas use his eyes and/or his brain and make a good decision? If he can, Lugo is elite and we're getting a great price. If not, then I got got. The total looks too low, but not that much too low, and it doesn't feel like a good spot, so I'm going to pass.
PASSING: 915/916 Indians/Tigers Over 7.5+107 and 913/914 Rangers/Astros Under 9.5-113
Both of these look like things we've been inclined to do lately, with not great line movement results, and both are on the edge in terms of value. Going to pass.
917/918 Dodgers/Rockies Over 11.5-102
Seriously, you're giving me the Dodgers offense in Coors Field and I only have to score 11.5 runs? Bring. It. On.