Aikido 9/30
Talk to me about playoffs!
Let's get one thing straight. This round of playoffs is bullshit.
That said, it is playoff baseball. It makes sense to see what this baby can do, and my friend Seth Burn sufficiently shamed me that I've seen the light. So at least for a bit, we'll be running numbers again.
The big concern is that our data is a bit corrupted. Perhaps more than a bit corrupted. We are using end-of-season games where teams were doing weird things to predict playoff games. That comes with certain dangers.
A second note is that playoff baseball is slightly lower scoring than normal baseball would be. That might be lessened now that pitchers will have fewer off days, but the prior should still be that our totals are a bit too high.
Oh, and the divisions didn't interact until yesterday! There was zero overlap between the west, east and central. So matchups crossing between them are going to be tough to figure out.
Thus, one should be cautious. But how cautious? Let's take a look.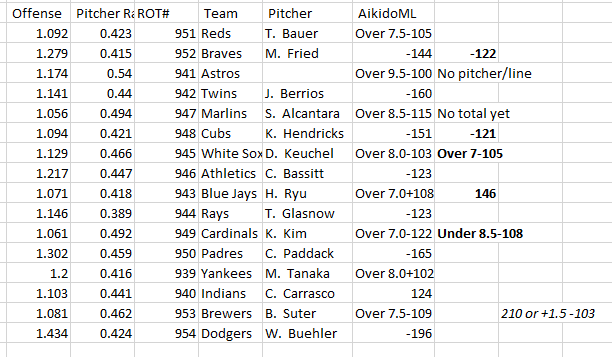 I'm sure these numbers are somewhat out of whack in places, but also I kind of really like these bets.
952 Braves -122
This seems very cheap to me. The Braves offense is quite good, their bullpen is good, their pitcher is good. They're at home. Where do the Reds have a compensating edge?
948 Cubs -121
The best part is that these two bets complement each other. We get the Cubs and they get the Reds in the Central, we get the Braves and they get the Marlins in the East. Again, we get a better offense and a better pitcher at a very moderate price.
943 Blue Jays +146
We're in division here, so we're fairly safe. This is a normal game, and it's got a number that's too big, so let's do this.
945/946 White Sox/Athletics Over 7-105
Good pitchers and good offenses should translate to a low number here, but not this low. I'd still have been super worried about taking an over now, except we also have…
949/950 Cardinals/Padres Under 8.5-108
I don't understand how we got this. Yes, Kim is not that premium and the Padres offense is good, but they're at home as substantial favorites and 8.5 is a normal number. Very happy to take this for balance.
PASSING: 953 Brewers +210 or +1.5 -103
The +1.5 -103 is very slightly better, but we're used to getting much better relative numbers, and the edge here is relatively small. Given we're crossing divisions this early, and the Dodgers are a house, I'm inclined to leave this one very much alone. I'd have been willing to consider a runline play on general principles if the runline was relatively cheap, but it's not.