Aikido Predictions 8/31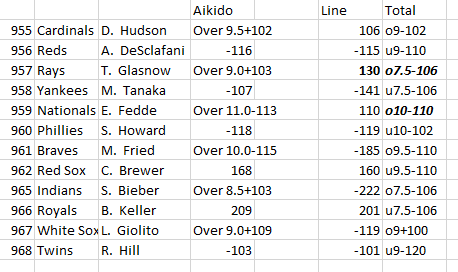 957 Rays +130 and 957/958 Over 7.5-106 (if 9 innings). I like taking both of these because DJ just returned, so I don't want to have to worry that I'm not taking his return into account properly. He's been back for three games already, so the adjustment should be underway. I do get that both pitchers here are quite good, but the offenses aren't bad either, and if one is bad right now it's the Yankees.
959/960 Nationals/Phillies Over 10-110. These are some great offenses and some horrible pitchers, in a hitter's park, and there's a DH every game now. I don't see a problem with the over here.
However, we definitely have a general problem that I'll need to get into tomorrow in more detail. The seven inning game adjustment problem needs to be solved. The obvious thing to try is to throw every seven-inning game out completely, and see what numbers the program produces, then go from there, but I don't have time for that today. Hopefully tomorrow.
In the meantime, I'm fine taking the relatively cheap overs until I can figure out the problem - we see 58 cents in TOR/NYY and 43 in WAS/PHI, whereas we see 22 in ATL/BOS, 21 in STL/CIN, 23 in CLE/KC and -9 in CWS/MIN. It's quite possible we're 15-25 cents too high in general, presumably because we're misidentifying past games or something, so to bet an over right now I think we need about 40 cents, and to bet an under we need something between 0 and 5.