Aikido Predictions 8/31 full slate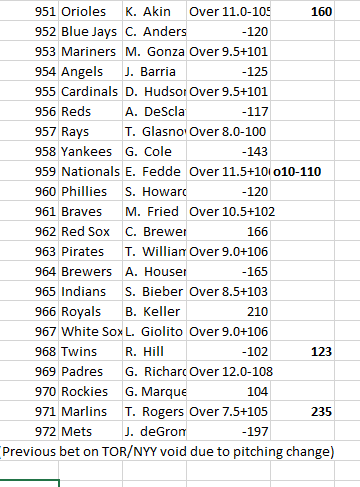 It's day-of and we still haven't fixed our issue with the totals being too high, so our threshold to place wagers on totals kept us from making additional plays in a few spots until I can investigate further. I'm happy with the four plays we have, even the Marlins.
I've decided that the Mets are actually mismanaged enough that it matters. We take starters out for no reason, we leave others in who need to go. We send out lineups with dead spots in them entirely by choice. We still haven't figured out something is very wrong with McNeil (and mentally also Nimmo) or that Hamilton is the worst hitter I have ever seen including Bartolo Colon. We don't pinch hit or pinch run in high leverage spots. Yesterday, up 5 in the last inning of the first game of a doubleheader, with more than one game per day upcoming, we put in a pitcher for a third day in a row rather than use the back end of the pen. Why even have a back end if you never use them? Combine that with our continued failure to execute in key situations, both on offense and defense, and something is very, very broken. Our team is being marked like it's a good team with rotation issues, which we should be, but that's too generous. It would take a ton to get me to bet on the Mets right now.
I know last time I said "Never bet against DeGrom in a day game at Citi Field under any circumstances" and now I'm doing it a few days later, but Rojas is incapable of letting DeGrom pitch more than six innings and our bullpen is a disaster area the way it's been managed lately and with how many games we've been playing, and +235 is just so much value. The program thinks DeGrom is the best pitcher in baseball, so it's not like it's not giving him the credit he is due.
The quest for today, when and if I have time, is to get to the bottom of the seven-inning-game problem and figure out whether it's warping totals and how much.