Aikido Predictions 9/1 full slate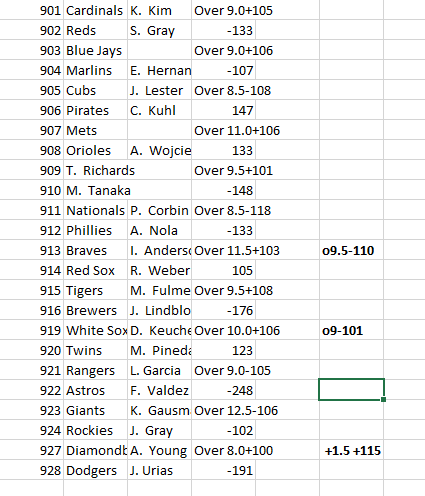 I had a version of this earlier where I was taking Rockies +130, which looks amazing now, but I didn't post it because I was hoping more lines would be put up. And now that line is where I expected it to be. As tempting as it is to say 'no really, I took that' that's not how one builds an honest public record. I didn't post it here, so I don't get that line.
913/914 Over 9.5-110 Braves/Red Sox I will accept now, despite any and all players the Red Sox traded away yesterday, which is available now.
I should have taken the Dodgers under as well, which also looks good, but for some reason I didn't notice before. It's too late now, but worth noting that the program did want an under. Whoops.
Beyond that, doesn't look like there's anything too great out there, so that's it.
I'll aim to post for 9/2 tonight and get back on that schedule going forward.
If anyone is using this to wager at all, let me know! I'm curious.
Next step, if I have the time for it, would be to revive my fantasy work. At one point, I spent a few months experimenting with playing on FanDuel. I was making good progress, and had above-average player valuations, but ultimately decided that I didn't at the time have the resources to move forward with the project. Fantasy is quite the grind, and I didn't have either enough cash to play with or much coding help, so I decided to pack it in and get a real job. I'll consider whether to do that.
Aikido itself would love to improve, but without any feedback it's tough to figure out how to do that short of paying intense attention, and I have a different primary job at the moment. The only thing I know I can do right now to improve it would be to give it another data source for what games exist, so I could get my stuff out earlier - right now I'm depending on gambling data sources only. If anyone knows who has the right pitching matchups and posts them in nice form the earliest, drop me a line.