Aikido Predictions 9/1 part 1
Turns out the over bias isn't due to seven inning games after all.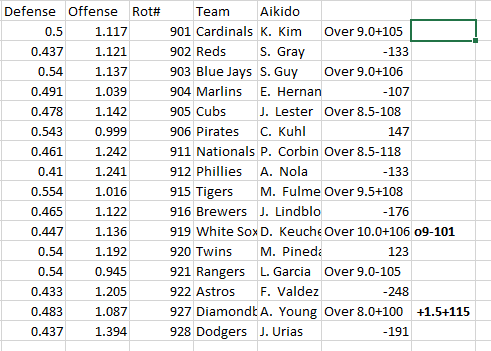 Most years, you wouldn't have to split the predictions every day. This year is crazy town. I tried waiting until I got up in the morning in the hopes that would avoid a split, but to no avail. The question now is whether to wait until 10am - this would still get my odds on record since they don't change, but it would make it much harder to get good lines, or we'd have to be betting strictly via formula to get the openers. I'm not thrilled with either option there.
Now that I can do charts it's including a new feature, which is to include Defense/Offense ratings for each Pitcher/Team. Thus, you can see where these odds are coming from. A defense rating of 0.54 typically means 'mysterious pitcher' so treat with appropriate levels of caution. As described before, a percent difference in rating directly translates to that same percent difference in run production.
I did check the seven inning thing yesterday, and found that it was making very little difference in general. It wasn't responsible for the over bias. Including those games did make us slightly less accurate on yesterday's slate, but that was mostly due to one pitcher's rating changing. That doesn't provide strong evidence that such games mess us up in general, but I'm going to try experimenting with treating those games as less important to balance due to the uncertainty. We have enough slack in the system to do that without doing much damage even if it isn't necessary.
The totals look like they're close to in line in any case. Still an over bias, but easy enough to mentally adjust a little bit for that.
Here are our picks for today.
We considered but pass on 901/902 Cardinals/Reds Over 8.5-105, which is a 15 cent edge, due to newly better information, but this isn't a fresh line, it's an early morning line, so this isn't enough edge.
919/920 White Sox/Twins Over 9-101 is a much bigger edge, more like 40 cents, so that's an easy play. Something doesn't quite feel right here, instinctively our number is too high, but math is still math and that's a lot of edge.
927 Diamondbacks +1.5 +115 is our first spread. The downside of waiting is more accurate lines. The upside of waiting is more options on how to wager. In MLB, big favorites have historically offered better odds by betting on the runline rather than the moneyline. I checked, and this was no exception. Doing that also prevents those wagers from being effectively larger than other wagers. My math says that this line is not especially juicy compared to the moneyline odds, this isn't one of those places you'd consider going for a middle or anything, but it is a clearly better option. Note that I haven't adjusted for the rule that you start with someone on second base, but my guess is a small adjustment.