Aikido Predictions 9/10
Think before you wager!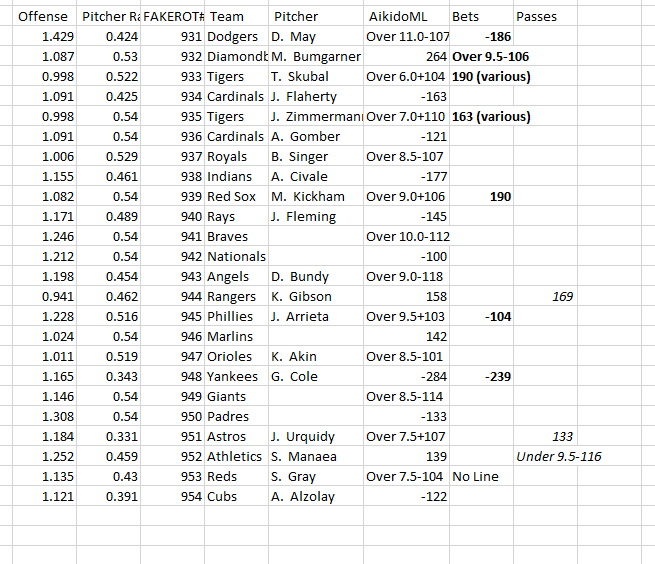 When there is a big disagreement, some common sense goes a long way in figuring out what is going on. At other times, it's obvious what's going on.
Also note that once again these are not real rotation numbers, as my source doesn't have them yet. But we need a way to discuss things.
931/932 Dodgers/Diamondbacks Over 9.5-106
931 Dodgers -186
There was a time Bumgarner was one of the game's top pitchers. That was before 2020. Now, he's clearly not what he once was, and gamblers generally agree he's a liability. Combine that with May and the Dodgers, and getting better than -200 on this is an absolute steal. The total isn't quite as obvious because May is lights out, but nine innings of Dodger offense against presumably the Diamondbacks bullpen should still get us there.
933 Tigers (T. Skubal vs. J. Flaherty) +190 (+185 or better)
935 Tigers (J. Zimmerman vs. A. Gomber) +163 (+145 or better)
The second play is stronger than the first by a substantial amount, but both are still strong. Our math says seventh inning games are more variant, which I'm sure is helping. We have not bet on the Tigers in a while, and the totals both mostly line up, so I'm willing to take them in both halves of the double header here. If things looked a little more suspicious, I'd drop the first play at +190 and keep the second at +163. Neither has opened at Pinnacle, so these aren't our final numbers. Thus, I'm giving myself substantial slack to still take Zimmerman at worse prices, but only a little on Skubal.
939 Red Sox +190
We're at the point where I need to start demanding extra edge on teams as down and out as Boston, but this is certainly enough. We bet on them a number of days ago, and this edge is large, so we'll be careful betting on them again in the next few days.
PASSING: 944 Rangers +169
Not enough edge here given we keep betting on the Rangers.
945 Phillies -104
This is a weird one. The Marlins pitcher isn't listed in our calculations. Turns out it's Alcantara, who is all right I guess. Rather than force the program to do the math, I did an approximation, and found it's still not going to get us anywhere near pick. Arrieta isn't what he once was, and neither is the Phillies pen, but given we have a much better offense, Phillies are still the favorite here. Another sanity check is that our total thinks we have edge, but substantially less edge, which lines up.
948 Yankees -239
Always super scary laying big juice like this, especially on a team that is choking. Normally I'd be nice and say underperforming, but it's the Yankees, so screw 'em. Still, the spot is clear. Cole versus Akin is a mismatch and we have a much better offense to boot plus better motivation to win. We're doing this.
PASSING: 951/952 Astros/Athletics Under 9.5 -116 and 951 Astros +133
Look at that pitcher rating we have for Urquidy. That's not just a good rating. That's the best rating in baseball. And our numbers are completely bonkers. I don't know why the program decided to make Urquidy into DeGrom with a better bullpen all of a sudden, but the market is right about this one. He's nothing of the kind and this is basically a bullpen game for Houston. Oakland has the better offense, they're at home and have a substantial pitching edge. The line we're offered, +133/-145 and o9.5+103/u9.5-116, is consistent with that picture and the two lines live in roughly the same universe. Let's not play loose, and find a better spot.
Overall: We're +8.8. I consider myself to have 'gotten got' on betting on M. Wacha. It was fine to take the under, it was a high number, but if I did I needed to take the small edge on Baltimore as well to avoid betting on a pitcher I knew wasn't being given the disrespect he deserves. One of the biggest mistakes you can make is to end up betting against the things you know the market hasn't fully valued yet, when you know that's the situation. Thus, the voodoo rule should have applied, and will from here on in - no betting on Wacha. Bets need to combine to be rooting against him.