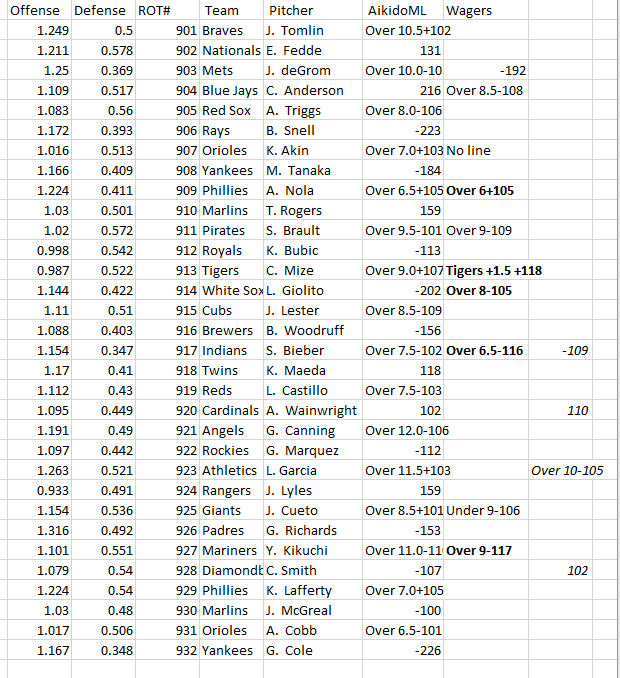 New bets are in bold.
909/910 Over 6+105
We think they messed up the math here and are happy to take the value.
913/914 Over 8-105
913 Tigers +1.5 +118
We like this runline so much better than the moneyline (we could have taken +235) that we'd prefer it even if the total agreed with us and was 9. As it is, the two act as somewhat of a hedge on each other.
917/918 Indians/Twins Over 6.5-116
This is pretty marginal on its face. What pushes me to take it is that many places have this as a weak 7 rather than a strong 6.5, so we're getting a good number in market terms. Otherwise, it's not quite good enough. We're a few cents short of taking the Indians.
927/928 Mariners/Diamondbacks Over 9-117
Two horrible pitchers and a reasonable price. I can't argue with that. We're passing on the Diamondbacks but would have taken a few more cents.
PASSING: 920 Cardinals +110 due to edge not quite being there.
PASSING: 923/924 Athletics/Rangers Over 10-105
This is a weird one. The number being reported is 11.5, but I'm flagging that as some sort of bug. We replaced a random pitcher with an above-random pitcher and the total went up rather than down. Whoops. And if you look at the numbers, with the Rangers offense so bad, putting this at 11.5 does not make any sense. Combine those and my lack of time to investigate the problem more right now, and our worries we have the park factor wrong, and I've decided to leave it alone.
Headed down the home stretch of the season. We're 50-40-1 and +15.6 units right now. Hopefully we can finish strong and be pumped for next year. Being a Mets fan has been super painful, as Rojas is determined to throw our season away, but somehow we still have a shot.
I have been known to place wagers on other sports as well. I don't anticipate writing about them much here, but that could change if I'm invested enough to have real opinions, and I also can try to turn the engine on for football or basketball at some point. It does good work in college basketball, if that gets played, and is interesting but flawed in football.