Aikido Predictions 9/11 part 1
This card is quite a mess, but our results are sweet.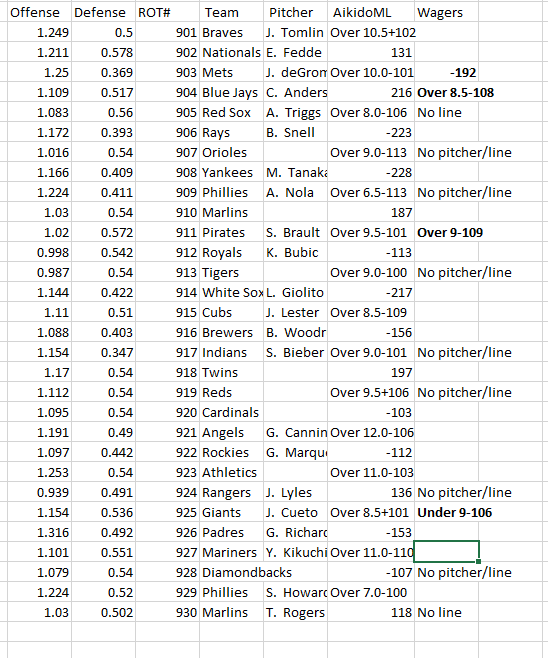 With so many missing pitchers, we'll need to look again tomorrow. For now, we're only touching three games.
903 Mets -192
903/904 Mets/Blue Jays Over 8.5-108
I'm down betting on DeGrom here. It's a big number, but if anything 0.393 is rather insulting here. He's better than that, Anderson isn't good and we have a substantial offensive edge.
The total feels like a miscalculation for all concerned. We get a strong offense feasting for nine innings on an actively bad pitcher. Mets offense has been explosive.
It's worth noting that I didn't get to this until late, and as I write this the Pinnacle line only offers Over 8.5-113. Someone got to it first. I'm going to write it down anyway, because there are lots of other books where I can get -108 or better now - 5Dimes, Heritage and Bookmaker are all -105 or -106, so getting a unit down at -108 seems reasonable.
911 Pirates/Royals Over 9-109
925/926 Giants/Padres Under 9-106
It's not that big an edge but I'm generally comfortable in the spot. That applies to both of these.
There's a lot of other stuff out there we can tackle tomorrow. A few games clearly do have pitchers who we didn't pick up - in each case I did an eyeball to see if we had a strong enough opinion to force the issue now, and didn't see anything.
Our record as of yesterday's games, however, is looking as good as one could hope for. With a 7-2 record on the day, we improved to 48-38-1 in wins for a net +14 units or +16.2%. Our line movement isn't quite into positive territory, but it's damn close, with a net of -5.5 cents, or 0.06 cents per game (my rounding is inconsistent, which I need to go fix at some point if I'm going to make sure I'm technically correct. Which as we all know is the best kind of correct).
I'm ready to conclude that what we're doing here is substantially better than random, and together with smart line shopping and using baseball smarts to avoid walking into traps, it could be the centerpiece of a profitable strategy. It won't hold 16% no matter how well you execute, of course, so don't get your hopes up too much.