Aikido Predictions 9/13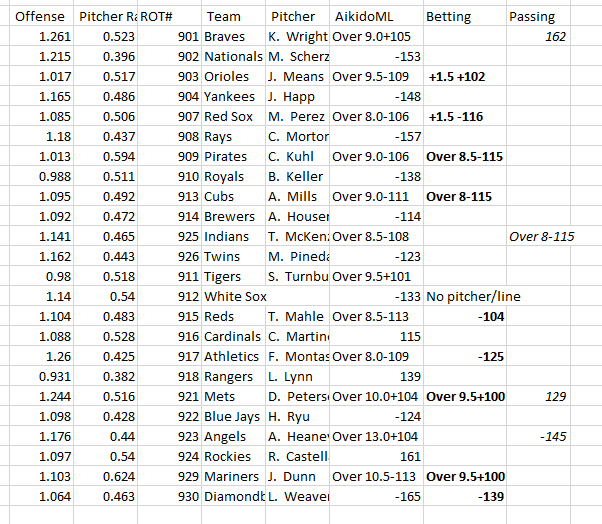 PASSING: 901 Braves +162
I am tempted, but this is slightly too thin.
903 Orioles +1.5 +102
Would also have happily taken +189, but the runline is a gift on top of a gift. The Orioles have a solid offense that if anything is being underrated and Happ is not super impressive. Orioles are also still in the hunt. I don't see how this game is this out of hand.
907 Red Sox +1.5 -116
Would have taken +174 if left no other choice, it's enough. Again, we're getting a substantially better option. We've already cashed two runlines while losing the game, if you're curious.
909/910 Pirates/Royals Over 8.5-115
This is right on the edge and I think passing is perfectly fine. In real life I'd pass for now and look for divergent lines later to get a cheaper price.
913 Cubs/Brewers Over 8-115
This one is less close.
915 Reds -104
It's a little thin, but I'm becoming more confident, and the closer we are to pick the more I believe in the program. Reds can't be underdogs here unless there's news.
917 Athletics -125
I did notice that Matt Chapman is out for the season, but the total didn't move, and that reflects that Chapman does not much matter. He's not that great, whether or not he qualifies as ESPN Breaking News during my college football games.
921/922 Mets/Blue Jays Over 9.5+100
I want zero part of +129 on the Mets here, but I'm happy to take the over. I don't have faith in Peterson at all at the moment, but I do like both offenses.
PASSING: 923 Angels -145
With an established pitcher rating for the Rockies this would be good enough. Without it, I don't think we're quite enough given we're tempted by the over as well.
929/930 Mariners/Diamondbacks Over 9.5+100
930 Diamondbacks -139
The Mariners pitching can't actually be this bad, right? Right? Actually, pitching can be really bad if you don't have any. It's reasonable for the market to sometimes forget about this, but the program is here to remind them.
Several games are missing, so if I get a chance tomorrow I'll fill the card out.