Aikido Predictions 9/14 part 1
There are lines for only two games in most places, at most three, which has to be some kind of record. Baseball, get yourself together. This is getting rediculous.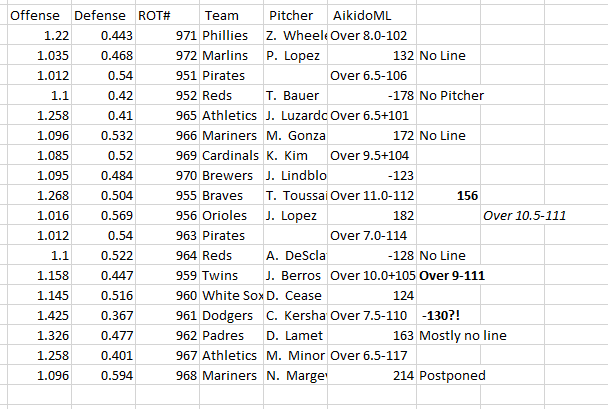 We still have a few plays.
955 Braves -156
PASSING: 955/956 Over 10.5-111
The Braves line is better than the over, and we've been taking a bunch of overs, and the over is high, so it's an easy one to let go. The Braves seem great though.
959/960 Twins/White Sox Over 9-111
Yeah, it's been a lot of overs, and this isn't as good as it looks but it's still roughly 25 cents.
961 Dodgers -130 if available (taking -145 or better)
Line is listed only at a handful of books, so we wait until the Pinnacle open, or shop around at close if they never open. Our threshold will be -145. Kershaw plus Dodgers equals large favorite, guys.
No update on how we're doing because I took time off to watch football, and thus am behind on Mets games. I'll catch up on scoring in a few days.