Aikido Predictions 9/15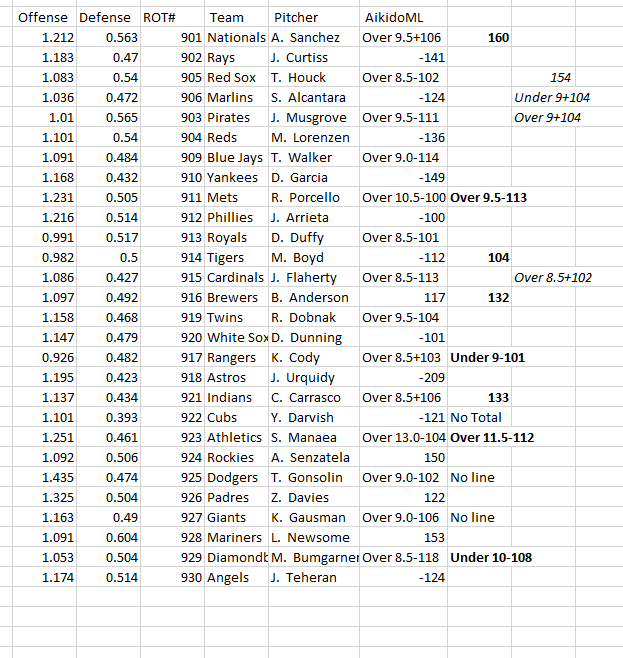 We're back where we're most comfortable, taking value on underdogs, and on totals that seem easy. But there are some traps we'd be wise not to fall into.
901 Nationals +160
Sure, why not? Slight hesitation on the side but edge is solid.
PASSING: 905 Red Sox +154
PASSING: 905/906 Red Sox/Marlins Under 9+104
Similar edge on both lines. Red Sox pitcher is new, so presumably we'd be betting on him being only normally lousy and not terrible. Checking projections and the ratings of other Red Sox pitchers does not make me enthusiastic about making that bet. If one line was better substantially better than the other, I'd take that one, but they're similar, so I'm going to pass on both.
PASSING: 903/904 Pirates/Reds Over 9+104
Once again we'd be betting on a new pitcher, this time against him. Once again, projections suggest that's not a good idea. Reds have very good defense, and Lorenzen looks to be solid.
914 Tigers +104
I always love getting odds when I should be giving them, even when the edge isn't objectively that large. We've been betting on the Tigers a lot, but we also have bet on the Royals a decent amount, and Pinnacle's line looks relatively generous, so it's probably fine. I do think passing here is reasonable.
916 Brewers +132
Seems like a straightforward math play with no red flags.
917/918 Rangers/Astros Under 9-101
I do want to be careful with under bets on the Rangers when they're on the road, but not this careful.
921 Indians +133
Again, it's not that large an edge, but there's also nothing that seems off about it.
923/924 Athletics/Rockies Over 11.5-112
Welcome to Coors Field, population more runs than this. It's possible the park factor has gone down since I last calculated it, but we have a lot of edge to cover that. For next season a full park evaluation will be necessary.
929/930 Diamondbacks/Angels Under 10-108
These are neither impressive offenses nor awful pitchers and the ballpark is normal, so getting a 10 seems like an easy play.
Card is close enough to complete that there won't be a second run. I'm still a full cycle behind on games and the NY Giants are playing, but I can still check things soon even if I stay a little bit behind.