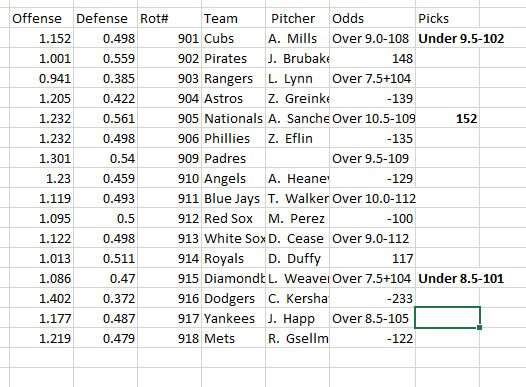 Straightforward day. I can't think of any reason to be skeptical of these picks, beyond maybe 'this is another Cubs under.' Whatever bias problem we may have had, it's gone now. Maybe it was the weather, or maybe the market changed its mind for a bit.
901/902 Cubs/Pirates Under 9.5-102 is the one that makes me a little nervous due to the patterns, but it still seems worth it. If I'm told to take another Cubs under on the road, I'll up the requirements.
905 Nationals +152 is good enough to take early, given how lined up we've been recently.
915/916 Diamondbacks/Dodgers Under 8.5-101 is the strongest pick of the day. That is an awesome pitchers duel with a large home favorite. I can't see how this can be an 8.5.
Mets continue to be super frustrating. Why did we trade for Todd Frazier, who is worse short and long term than whoever he'd replace? Are we trying or not trying? How did we not realize our latest starter has no stuff? If we're starting him what are we doing with Gsellman? And so on. Le sigh.
As always, if you find these useful, I would welcome feedback, and please do spread the word.