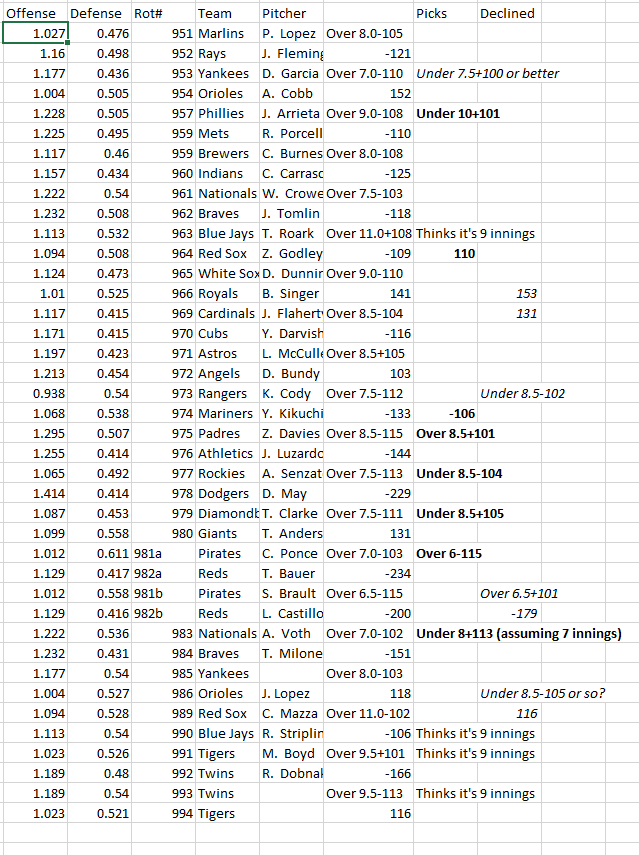 Doing something new here, which is listing the declined picks on the chart as well. Those are picks that the program could reasonably take, but which I decided didn't offer enough edge given the late hour, or something was worrying. Certainly if one is offered a good line and checks for issues, one can consider them, but they won't count towards the program's record.
Looks like the program definitely recognized some of the 7-inning games today, but missed others. The mechanism to catch this definitely seems to not be working quite right when information is still missing from the slate. For now, I've marked the games where it clearly didn't work. If an over is good by about 2 runs, check for a doubleheader!
Some discussion:
953/954 5Dimes is the only known book with a line and it's bouncing around. We'll wait for the Pinnacle opener, and take Under 7.5+100 or better.
957/958 Phillies/Mets Under 10+101 This line makes me nervous as a fan, but I do think it's too high. These are mostly reasonable pitchers, and the game is at Citi Field, and the Mets made themselves worse offensively adding Frazier.
964 Red Sox / Godley vs. Blue Jays Roark +110. Program doesn't understand why we're the ones getting odds here, and it seems clear cut enough to take it. Noting the pitchers because of the double header, to make sure we get the right game.
PASSING: 966 Royals and 969 Cardinals would both have been good enough last night, but with the wait I need a bigger edge, so I'm passing.
974 Mariners -106 looking good from last night. Still passing on the under as duplicative.
975/976 Padres/Athletics Over 8.5+101 The Padres improved if anything, and we do have one great pitcher but we have two great offenses and a good number. Let's go.
977/978 Rockies/Dodgers Under 8.5-104 looks pretty bad right now, we could have held out and gone Under 9-115 instead. Doesn't mean I know what they're thinking. Anyone who does please let me know.
981/982 (WARNING THERE ARE TWO OF THOSE) Pirates C. Pounce vs. Reds T. Bauer Over 6-115. The program knows this is a 7 inning game and that's fine. Ponce is terrible and we get 100% of his innings in the books, so if anything this is even better than it looks. We like the over a bit in the other game as well, but we're passing on it because this one is so much better, and we don't need to express some of the same opinions a second time at a worse rate.
983 Nationals (V. Roth) vs. Braves (T. Malone) Under 8+113 for seven innings. I mean, wow. We get one quality pitcher and that is not very many innings, so this seems like an outright mistake, maybe our strongest opinion yet, assuming they do indeed play two. Maybe someone else didn't realize this was a shortened game.
PASSING: 985/986 we're not completely uninterested in the under here depending on what it is, but not interested enough to worry about it without a line at this late hour. Too many things we don't know. If we knew them we could think about it again.