Aikido Predictions 9/5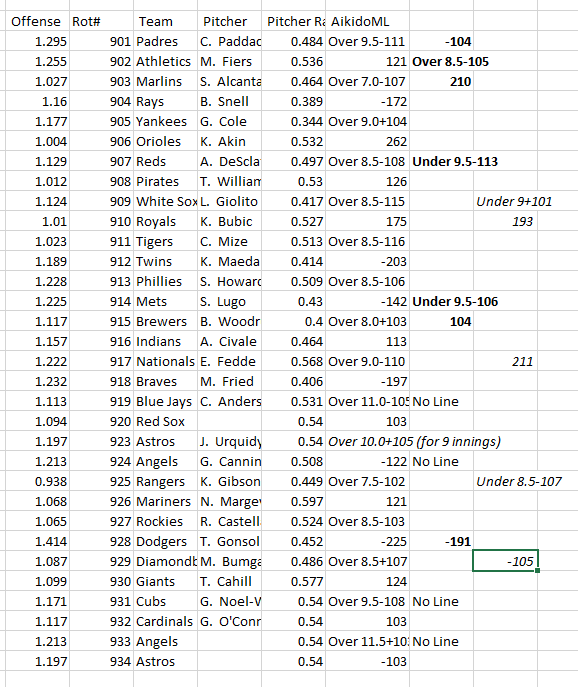 901 Padres -104
901/902 Padres/Athletics Over 8.5-105
We get to back the Padres offense two ways after all their trades. Is it possible the Padres made themselves worse and the market knows this? I suppose it's possible, but it doesn't seem likely. I also don't see any injuries to position players on the Padres. I'll take both and see what happens.
903 Marlins +210
Once again, the Rays didn't improve at the deadline. The Marlins did sell a bit, but the edge is pretty big, and the opt-in should serve as a reasonable replacement.
907/908 Reds/Pirates Under 9.5-113
Solid edge, we agree with the moneyline.
PASSING: 909/910 Under 9 +101 and 910 Royals +193
Both of these were borderline levels of edge given it's the overnight evening. Given we like both about the same amount, chances are we're missing something and the White Sox offense is indeed better than we're giving it credit for here. I'll be a little wary fading their offense for a few days.
913/914 Phillies/Mets Under 9.5-106
I like this a lot. It's a big edge. Lugo should get to pitch more innings each time out there and has been performing quite well as a starter. So even though Lugo's getting a lot of credit, if anything he deserves more. He's quite good, and the moneyline lines up.
PASSING: 925/926 Rangers/Mariners Under 8.5-107
Mariners pitching is still terrible, and maybe the Rangers offense probably isn't the worst offense in baseball by quite as much as the program thinks, and we do have somewhat of an Under bias at the moment, although in general it's good to have a moderate Under bias (or in some places in sports, a large one, but that's another story). Add up all the different concerns, and I don't think this is quite enough edge on this one, but it's a very reasonable place to bet.
928 Dodgers -191
The occasional big chalk on the best team in baseball is good for keeping things in balance. We do want to end up on more big dogs than big favorites, but it would be troubling if we never flipped it around when the right game comes along.
PASSING: 929 Diamondbacks -105
The pitching edge here is large. If the Diamondbacks hadn't sold Marte at the deadline, this would be a very strong play. Instead, we need to value Matre. A reasonable estimate seems like 3.0 WAR for a full season, so Diamondbacks chances are likely down by 2% or so. That would turn our -124 into -115, which only gives us ten cents, and their pitching staff took a few hits too. So we can pass.