Aikido Predictions 9/6
Strong disagreements today.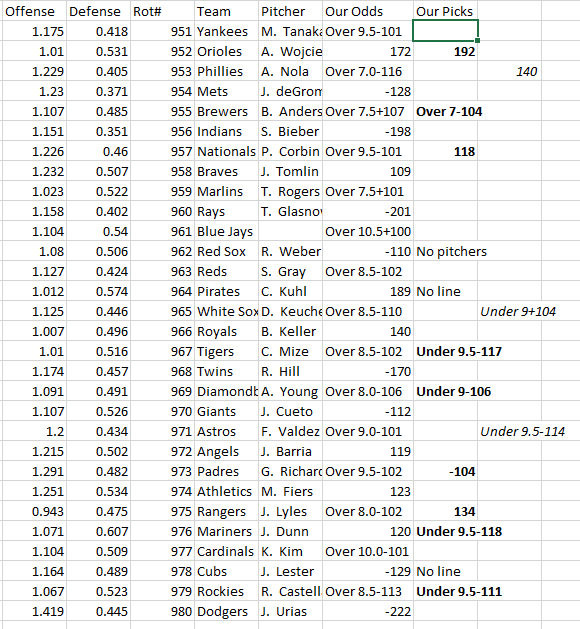 We have a lot of lines, especially a lot of under bets, that we like a lot today. I checked to see if they lined up with the under bets we had yesterday, and there does not seem to be a strong pattern. It's always nerve wracking when you see this much edge, and if I was betting real money I'd be studying hard to check if something had gone wrong before I piled into these games. It's also always reassuring to be able to look at the previous day's matchups when it's not the first day of anyone's series.
However, I have also learned that periodically it at least seems like whoever sets the opening lines kind of goes on vacation, e.g. for Labor Day, and the person replacing them does a bunch of really weird stuff that gets corrected the next day. This might be one of those times.
Our Picks
952 Orioles +192
Typical case where we're getting big odds on an obviously big dog and it seems like it's somewhat too much. This could easily be a wash, but the Yankees can't easily be right, and on average we're going to have some edge.
PASSING: 953 Phillies +140
I get why the program wants this. Nola isn't as good as DeGrom but he's also elite, and the Mets suck. I still can't do it without my hand being forced more than this. DeGrom is too good, and Rojas has said he needs the starters to pitch more innings, and it's a day game for DeGrom. I got away with fading that once, not going to try and do it again.
955/956 Brewers/Indians Over 7-104
Very low totals are often too low and worth considering even in sports and places where over bets tend to be mistakes. This feels like one of those times and helps complement our under bets elsewhere on the card.
957 Nationals +118
I don't doubt why I am getting this line. Nationals suck and have been underperforming, so it's no surprise to see a tempting offer. I think this is tempting enough it needs to be accepted. In some sense it's despite all that, but in another sense knowing why you're getting the chance to bet makes it easier. You like the value, and it's a game where it makes sense that market offers you value.
PASSING: 965/966 White Sox/Royals Under 9+104
Initially I was going to take this. But when I started writing this up and looked at the four other under bets we're making tomorrow, and the marginal one I'd passed up, this edge no longer looked appealing. On a different day, sure.
967/968 Tigers/Twins Under 9.5-117
Getting both sides of the 9 is a big deal, and this doesn't seem to fit into any patterns for us. Easy bet.
969/970 Diamondbacks/Giants Under 9-106
Again we disagree by a full point. Weird. And again, I can't think of a good reason to be worried. It's hard for news you don't know to drive a total too much higher the day before the game.
973 Padres -104
Slight concern that this is a repeat of yesterday, and the Padres have indeed somehow gotten worse, but this much edge this close to even money is still worth taking. We'll be more cautious if the pattern continues.
975/976 Rangers/Mariners Under 9.5-118
975 Rangers +120
Both of these are huge disagreements. We outright think the Rangers are substantial favorites and have the total at 8. We hate Dunn and the Seattle bullpen, but in case we're wrong about that, we have the Under anyway. We are betting against the Mariners offense and on J. Lyles, and have lots of margin for error. Looking at projections for him, the rating might be generous, but not this generous. Not 50 cents generous. Still, lines don't move fast at this hour, so before you bet real money here it's worth going a robust "what am I missing" check on this game.
979 Rockies/Dodgers Under 9.5-111
This isn't as great as it might look, as the juice on both ends adds up, but it's still quite good.
Results So Far
I'm tracking results on a spreadsheet, since doing it daily isn't much more work than doing it periodically. As of the morning of 9/5, we are 26-20-1, +10.45 units (we take more large underdogs than large favorites), holding 22%, with line movement of about -0.5 cents/game (meaning +4.5 or so cents movement in our favor but we have to pay to bet and we end up very slightly behind, partly because we're often waiting to get our bets in slash not doing good line shopping).
I'd like better movement of course, but overall I'm pretty happy. 22% is of course way above any possible long term hold, illustrating how small a sample this is. At best, we should hold maybe 8% and the other 14% here is random.