Aikido Predictions 9/7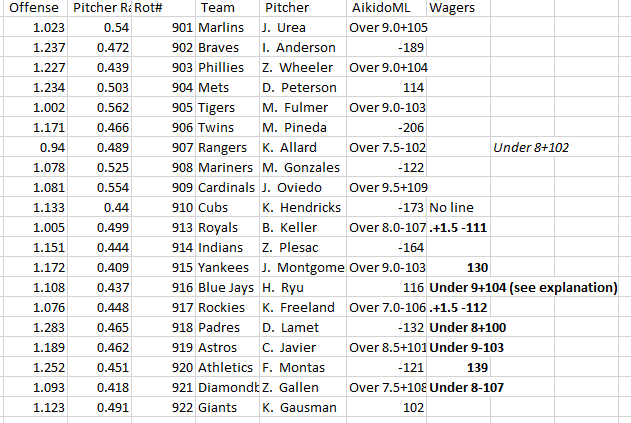 (That +139 is on Houston)
This is all but one game and that one game is at Wrigley. We'd take Cubs -158 or better or Cardinals +190 or better on the Pinnacle open, pass otherwise.
Today's picks:
913 Royals +1.5 -111
I see no reason not to get into the habit of taking clearly superior runlines when they are offered. This is several cents better than the moneyline would be.
915 Yankees +130
915/916 Blue Jays/Yankees Under 9+104 (!)
Aikido think Montgomery is better than Ryu once you consider bullpens and defense. That's… a strong statement, to say the least. Ryu is elite. Montgomery looked very good to me against the Mets, but nothing like a Ryu. But comparing him to other Yankees pitchers, we get that it thinks he's close in value to pretty much everyone else except Cole:
J. Paxton (L) Yankees 0.4362
J. Loaisiga (R) Yankees 0.4174
J. Happ (L) Yankees 0.4897
G. Cole (R) Yankees 0.3451
J. Montgomery (L) Yankees 0.4088
M.  Tanaka (R) Yankees 0.4173
M.  King (R) Yankees 0.3981
D.  Garcia (R) Yankees 0.4331
B.  Jensen (L) Yankees 0.4396
Cole is being given outright best pitcher in baseball status here, ahead of DeGrom. Clearly the program loves the Yankees bullpen. In the context of the other pitchers here, Montgomery's rating doesn't seem so out of line. And the offensive ratings seem reasonable enough.
Here are the Blue Jays:
Blue Jays 1.108
H. Ryu (L) Blue Jays 0.4373
M. Shoemaker (R) Blue Jays 0.5203
T. Hatch (R) Blue Jays 0.5209
T. Thornton (R) Blue Jays 0.5388
T. Roark (R) Blue Jays 0.5018
N. Pearson (R) Blue Jays 0.4585
D. Norris (L) Blue Jays 0.48
C. Anderson (R) Blue Jays 0.5196
J. Merryweather (R) Blue Jays 0.5463
T. Walker (R) Blue Jays 0.4876
(it also says S. Jones (L) Blue Jays 0.3665 and that's got to be some sort of bug, cause they'd be the best pitcher in baseball by far, I can't even figure out who this is, there's no Jones on their 40-man roster and I didn't see any trades etc)
This makes Ryu the best pitcher on the Blue Jays but not by that much. Ryu is better than that, given that the Blue Jays are favorites here. Quite reasonably much better. His bullpen is clearly bad, but being 0.4 or so is definitely in range, maybe lower.
The weird thing is we're being offered a good total. We can go under with a penny of edge to our numbers. Normally we wouldn't even consider that. But here, it's a hedge against our rating of Ryu. If we take both lines, being wrong means Montgomery needs to be substantially worse than the other Yankees starters that aren't Cole, which seems clearly wrong, and/or the Blue Jays offense needs to be severely underestimated, but we haven't been noticing that. No one on the Blue Jays is returning from injury and also this would require a superstar to even make a real dent.
So we take both lines and we feel comfortable enough.
917/918 Rockies/Padres Under 8+100
917 Rockies +1.5 -112
This isn't hedging of any kind, it's liking both lines a lot. We liked the moneyline, and the runline is better even if the total is 8 and we think it should be 7.
Note that doing this does introduce a small but real bit of correlation into our history, so our estimates of how likely our results are will need to account for that.
I'm happy to do this in two ways, because the thing we are betting against is the Padres offense. We just did a bunch of betting, including one double bet, on the Padres offense. Turning that around means we're getting a great overall price.
919/920 Astros/Athletics Under 9-103
919 Astros +139
We like both lines about as much as each other. If I had more time I'd look for a possible explanation. It's aggressive to take both here, but this is our first bet on the Astros and the total edge is pretty large. Taking various moderate dogs like this can't be that bad.
921/922 Diamondbacks/Giants Under 8 -107
Good enough edge that I'll take it. Program only liked 3 Under bets today, not four, we just added the fourth for tactical reasons. Still, it does add up and I'm sad I don't have more time to investigate.