Aikido Predictions 9/8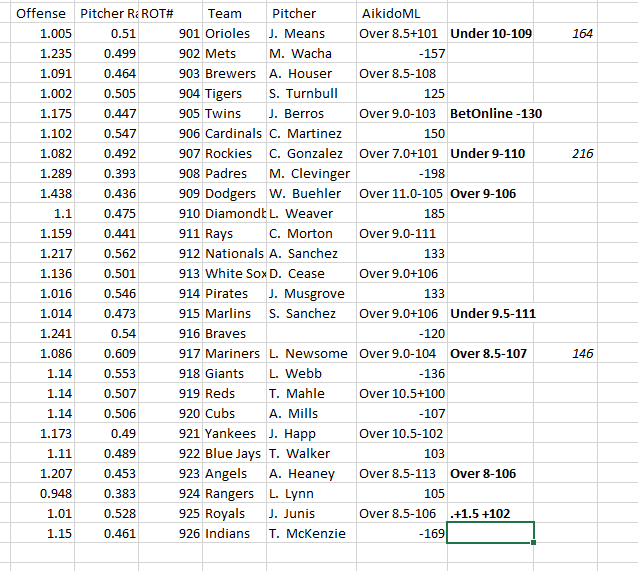 Had a rough day on Saturday, but there's bound to be rough days. Now only +8 units. Saved ourselves a unit by knowing to stay away from Nola, who got utterly destroyed.
Here's the next set of plays (the rotation numbers I filled in, so they could be wrong, be careful if betting):
901 Orioles/Mets Under 10 -109
The offenses here don't justify this high a total, especially with a substantial home favorite. I understand the point that Wacha's best days are long behind him, but then why am I also being offered the Orioles? I almost decided to take the +164 as a hedge here. If I could get the +168 or +170 available elsewhere, that would be good enough, but I've decided to limit myself to betting at Pinnacle to avoid the results being biased by line shopping. Thus, I'm passing on Baltimore, but if you get a good number it's a reasonable hedge play.
905 Twins -130 (currently the price at BetOnline)
We're willing to take -135 or better on the open, when it happens. If it gets higher than that, I'm willing to say we missed our window.
907/908 Rockies/Padres Under 9 -110
I'm more than a little suspicious that we have it this low, but can this really be a nine? The offenses are a little above average on net, but there's nothing too wrong with Gonzalez, Clevinger is great and there's a large home favorite. We're almost certainly getting carried away here, but so is the line. My true belief meets in the middle.
909/910 Dodgers/Diamondbacks Over 9 -106
Here we get nine Dodger innings against a mediocre pitcher, and in general get what is clearly a much better offensive situation than the previous game. Dodgers offense better than Padres, Diamondbacks not substantially worse than Rockies, pitching staffs less impressive, extra half inning to work with. You don't have to have the games four runs apart, but sixteen cents for this combo platter seems super cheap.
915/916 Marlins/Braves Under 9.5-111
I actively don't know who the Braves pitcher is that I'm betting on, because I don't have to. I like this with a minor league promotion, and every pitcher the Braves have used this year is substantially better than the rating we're using here, and the moneyline agrees with our assessment anyway. Bring it on.
917/918 Mariners/Giants Over 8.5-107
We've been going under in some Mariners games, so it's good to get an opening to go over to balance that. Edge seems solid enough. Mariners +146 is tempting as well, and if the total aligned with ours I would take it. As is, I'm avoiding it to avoid duplication, plus the move from 9-10 cents wide in this area to 13 cents wide makes it tougher to take a small edge.
923/924 Angels/Rangers Over 8-106
This is another chance to flip the script with an over on a good number.
925 Royals +1.5 +102
Taking runlines in these spots gives us a few extra percent. In some ways that's going to confound measuring our edge, but it's what we actually bet and what the simulation thinks is the biggest edge, so it seems right to take it. We'd have taken +198 if that was our only option.