Aikido Predictions 9/9
Big disagreements are in season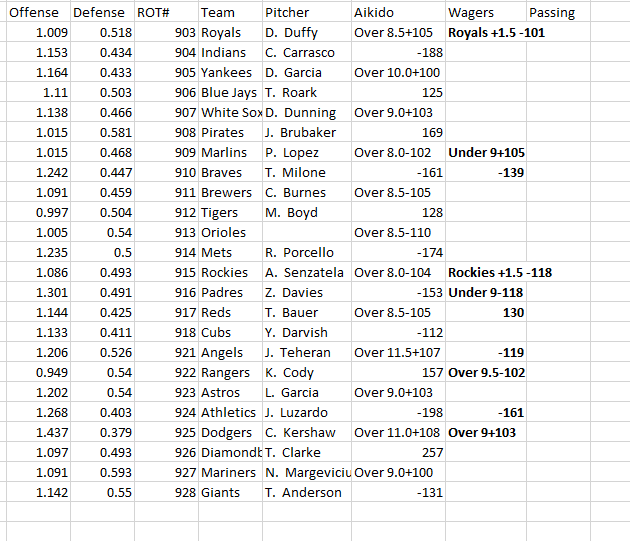 Several double bets this time on some large edges. Wish I was getting better feedback, but at this point I figure it makes sense to finish the regular season. We'll see about the playoffs.
903 Royals +1.5 -101
We get a few bonus cents moving over to the runline, which is good because the moneyline is expensive to bet these days. If the runline wasn't available, we'd probably have to marginally pass if we couldn't do any line shopping.
909/910 Under 9+105
910 Braves -139
Is there a reason not to believe in Milone all of a sudden? Admittedly his stats this year have not been great in Atlanta, but small sample size is still small sample size. With this level of edge I'm comfortable. Taking Braves over Marlins when it counts can't be that big a mistake, and these pitchers are too good for a 9.
915 Rockies +1.5 -118
915/916 Under 9 -118
Opinion on Padres has reversed on all counts, which is fine by me. I'll reverse as well at these prices.
917 Reds +130
Pretty straightforward.
921 Angels -119
921/922 Angels/Rangers Over 9.5-102
Rangers overs are something I'm very comfortable with given where we have them, as is betting against them when they have a new pitcher on the mound. He can only be so good. Let's go.
924 Athletics -161
Big edge.
925 Dodgers/Diamondbacks Over 9+103
I'm suspicious of the math that leads to 11 here, but not of the math that says more than 9.