Results Post 1: Aug 25-29
It felt like it was time to see how we are doing. Assessing the results was tricky. There have been lots of cancelled games and pitching changes and double headers.
Here are the rules I selected on what we did.
First, the picks in the posts are all for one unit. If we got odds, we're risking 1 unit. If we give odds, we are trying to win one unit. I do know that this is not recommended sizing strategy, but it simulates the limits on lines, and if you're good with a bankroll than anything worth taking is worth taking big. For now, we're not sizing moneylines and totals differently, but we'll want to redo that at some point to reflect them having different limits.
Second, the program definitely always clicks that both pitchers must start for action. If either doesn't match, bet is void. I also assumed that the system doesn't bet any totals in games that were 7 innings - if I ever do so, I have to explicitly say that I'm doing that, or the bet is void.
I did my best given that to tally what we have - if there's a game missing or one of these isn't real because there was a pitching change I missed, or I made some other mistake, please do point it out.
The next question is, how do we evaluate? And I had to think about this before looking at results of any kind. You should too. Otherwise you'll likely fool yourself.
Historically there are two metrics I use to judge results, which are units/dollars won (of course) and line movement against the closing line.
If you're reliably beating the closing line, you probably are going to win over a long time frame. If you're losing by a lot, you are going to lose eventually. That doesn't mean the closing line is accurate, but it's more accurate than earlier lines. If you're making good bets, the line should move in your favor.
My method is to compare the line I got to the fair value closing line. Pinnacle Sports determines closing value, with 5 Dimes as the backup when Pinnacle didn't have a line on offer, which happened in one game. I recorded results here in cents, which is wrong since it needs to be in probability, but for now it is fine. If we got serious here, we'd need to go back and fix that.
If your strategy is to bet right before the game starts and take the closing odds, for whatever reason, you'll always look bad on this metric. You should be suspicious that your strategy is getting you the best price, but you shouldn't panic that you're not 'beating the closing line' because you're not trying to do that. So you could still have good picks - but again, if you do have good picks, waiting is costing you money.
The right way to get the absolute best prices is labor intensive and complex. All I'll say on that here is that you need to have accounts in lots of places if you possibly can, take advantage of good spots when they come to you, and wait around when there isn't a good spot. If there's no good spot and you don't completely love it, it's probably right to let the game go.
Right now Aikido isn't doing top level line shopping, so if it was picking at random, you'd expect between -3 and -5 cents on average, since we are doing at least a little line shopping and comparing. And it's early enough that randomness remains a big factor even for movement.
For results, of course, it's way too early to say anything definitive.
So don't get too excited when you see how things are going so far, other than to note that I figured out how to get tables into Substack: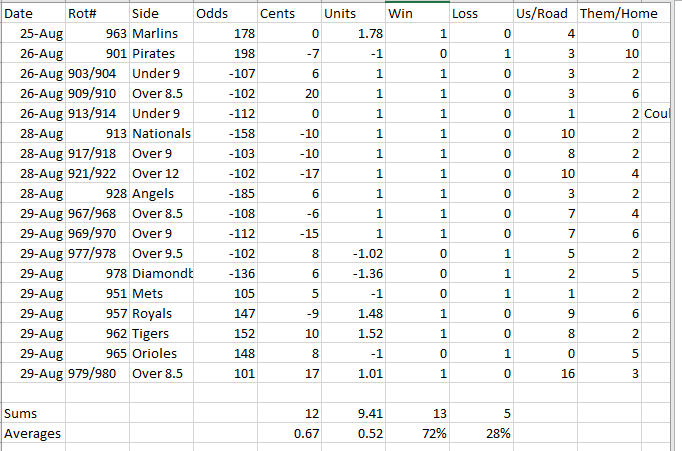 (We didn't end up actually resolving any of our bets from August 27, I didn't skip the date).
Our line movement results so far are not where we would like them to be, but given our level of care and how often we don't hit the openers, they're not bad at all. We are slightly ahead of the game, and that means a decent amount ahead of pure random. What we are doing likely has at least some value, assuming the tally here is right.
Our results record is very good. We went 13-5 while taking a bunch of underdogs three of which hit, for a net result of +9.4 units.
Obviously, it's great to be up 9.4 units after 18 one-unit wagers, but we know it is mostly luck. No one holds 55%. Almost no one even holds 5.5%, and that's close to the upper bound. Our program does not expect to win at anything like this clip, even if its numbers are always exactly right. I have seen places where a program can exceed the edge it 'thinks' it has, but this can't be one of those places.
You love to see it, of course. And if I was a tout, I'd be shouting it from the rooftops. Luckily, I'm not a tout, and I'm not going to be in action this season (perhaps I'd return next season, but at this point it would take too long to get set up properly), so all I'm doing is quietly smiling and hoping we can keep winning on paper.